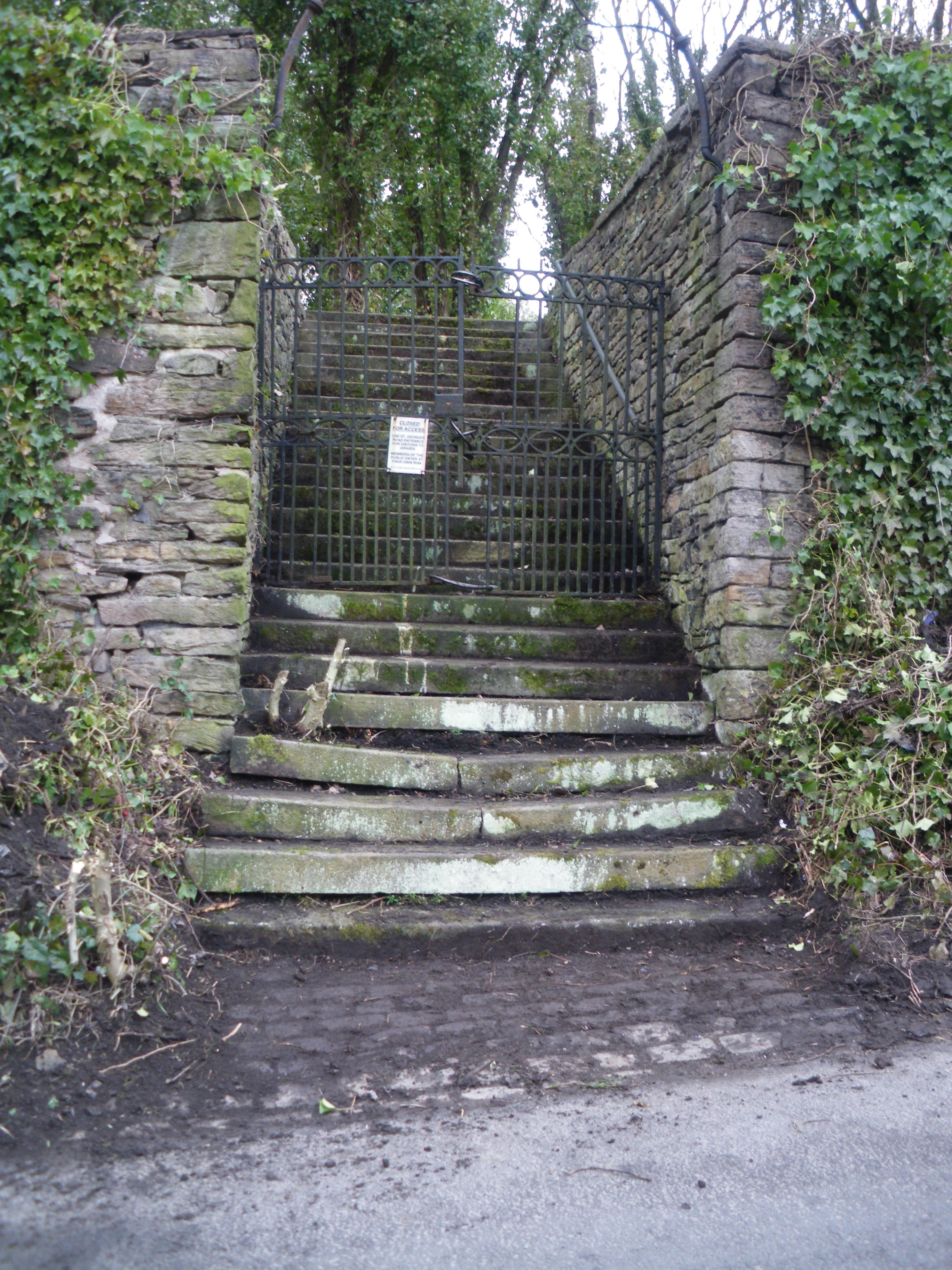 Of those few relics of New Mills past which are left to the present day, a majority are related to the strong religious beliefs of the population. None is more important or more poignant than the cemetery, which surrounded the site of "The Old Ship" as the "new" Chapel was affectionately known. Standing atop the "twenty four steps to Salvation" the Chapel and its cemetery were a focal point in the town for over 150 years.


THE WESLEYAN CHAPEL CEMETERY
The present generation of New Mills folks should remember that their ancestors of a century ago were prominently connected with the Chapel, and they lie around the building they loved so well. Well may thousands have such dear associations with the old place. To distinguish families when all were connected with the sanctuary would be invidious, but it may be mentioned that the thousands who sleep in the old portion of the cemetery include the families of: -

Arnfield, Allen, Ashton, Armstrong, Alsop, Ashworth.

Bagshaw, Booth, Beaumont, Beresford, Bates, Beard, Bower, Bowden,
Bennett, Brown, Bowring, Bridge, Bailey, Birchenough, Barber,
Barnes, Burton, Brierley, Bradbury, Bentley, Brayne, Barton, Berry,
Braddock. Budden, Brocklehurst, Broom, Buckley.

Clayton, Collier, Cheetham, Cooper, Critchlow, Crowther, Croston,
Chadwick, Cross, Carrington, Chatterton, Clark.

Dixon, Dudley, Dale, Dean, Doncaster.

Ellison, Edge, English, Edwards.

Frost, Foster, Frith, Fearnley, Faulkner, Fell.

Gibson, Giles Gregory, Garratt, Goddard, Green, Grimshaw.

Handford, Hague, Harrison, Howard, Horsfield, Horn, Hayes,
Hibbert Hollins, Hill, Hadfield, Hooley, Heap, Hobson, Hallam, Hawkyard, Holman, Higginbottom, Hollingworth Harrop, Hyde, Heald.

Inglis, Johnson, Jepson. Joule, Hudson Kirk, Kirkham, Kimer, Kilby.
Leigh. Lomas, Lowe, Lutman, Lord, Leech, Livesley.
Mason, Mellor, McCree, Marshall, Manifold, Moss.
Needham, Newton, Quarmby. Oldham.
Poole, Potter, Proctor, Platt, Pennington, Poyser, Pott, Philips.
Roberts, Renfrew, Ramsbottom, Richardson, Ready.
Stafford, Smith, Swann, Shepley, Siddall, Swindells, Shallcross,
Simpson, Sidebottom, Simpkins, Sutton, Surtees, Simister, Shaw,
Shrigley, Shufflebottom, Sweatmore, Sharples.

Thornley, Taylor, Thorpe, Thatcher, Turner, Townsend, Unwin,
Wyatt, Walker, Whitaker, Wharmby, Wild, Wood, Wolley,
Warhurst, Wheatley, Wilmot, Waterhouse, Williamson, Warren,
Willans, Worrall, and many others.

Perhaps the two families who have the greatest number of interments are the Handfords and Pearsons, although it is clear from the records that as it was with the securing of seats in the Chapel itself, so with the securing of graves in the burial ground. The oldest vault in the ground is that of Thomas Handford, of Ball Beard, near the entrance to the vestry, who buried a son there in 1811, and also laid his parents to rest here. His father was a trustee of the first chapel in 1766. The spacious vault contains the bodies of several generations of this notable Methodist yeoman family. The last to be interred here was Joseph Hanford (1876) aged 88, but other tombs of the family are to be found all over the cemetery.
Side by side is the fine tomb and spacious vault of the equally distinguished family of Pearson, erected by Stephen Pearson, another of the original trustees, who was gathered to his fathers in 1819, at the age of 82. The vault contains twenty-eight members of be family, eight of whom far exceeded the allotted span. A branch of the family occupied Beard Hall, others being blacksmiths, saddlers, etc., in the district.
The handsome tomb and vault of Jacob Fell is close by.
He was a Class Leader more than a century ago before the present chapel was built, was manager of Torr Top Mill, and lived at Torr Top. He died at Lewisham, Kent, in 1853, at the age of 84, and lies in the vault with his wife who predeceased him by thirteen years.

"Rest, weary pilgrim, rest,
Thy day of strife is o'er;
Now in the mansions of the blest
For evermore."

The descendants of this worthy are also interred here, the Redmans and Lefevres.

Memorials to the old family of Pearson are to be met with all over the ground. Several generations of the family have been blacksmiths, and on the stone of one of these, Stephen Pearson, Oct 24, 1827, are the lines:

"My sledge and hammer lie reclined,
My bellows, too, are out of wind,
My fires extinct, my forge decayed.
And in the dust my vice is laid,
My anvils broke, my iron's gone,
My nails are drawn, my work is done."

But although Stephens's work was done, his descendants have been hammering away in the old smithy until quite recently.

The body of Samuel Schofield, of Wirksmoor House, lies in a vault covered by a massive tomb. The Schofields were big folk in their day. They built Warksmoor House and Torr Mills when Newtown was a moor, known as Warksmoor, and their descendants are now residing in Liverpool. When the present chapel was built they carried on business as cotton spinners.

Formerly a raised tomb, but afterwards removed to allow better access to the vestry, and the inscribed slab inserted on a level with the ground, is the vault of the Timperley family, earnest Methodists of former days. Of Jemima, wife of William Timperley, (1831) it is recorded that "she was an Israelite indeed, in whom there was no guile. In her spirit and conduct she was a pattern of general piety, and her works praise her in the gate."

" Of softest manners, unaffected mind;
Lover of God, and friend of human kind."

This lady conducted two big society classes of females for many years down to her decease.

Not far away is the fine double-length tomb covering the vault of Dr. John Hibbert and his family, who were Methodist pioneers. Dr. Hibbert was the leading medico in the district in the early decades of the last century, and the last to be interred in the vault was Miss Hannah Maria Hibbert, aged 77, in 1902.

"Praise the Lord, all with Christ."

Another vault on this side of the chapel is of historic interest. The Taylors, a branch of whom settled at Low Leighton, were an old Methodist family who were the first to open their house at the top of Barmoor Clough, near Sparrowpit, for the holding of Methodist services soon after 1740. Randle Taylor, who lived at Highfield, Low Leighton, a hundred years ago, and whose descendent still belong to the estate, sold the land on which to build the chapel, and one condition was that he was to have a grave allocated to him. And here it is. Randle Taylor died in 1839 aged 85, and was buried at Mellor Church, but Mrs. Ann Taylor lies here, also the late Joseph Wright, his wife Elizabeth, daughter of Randle Taylor, and two of their children. John Taylor, a son, became one of the first magistrates in New Mills, and was Lord Egerton's steward.

The once big family of Armstrong all rest here. They worked Torr Vale mill a century ago,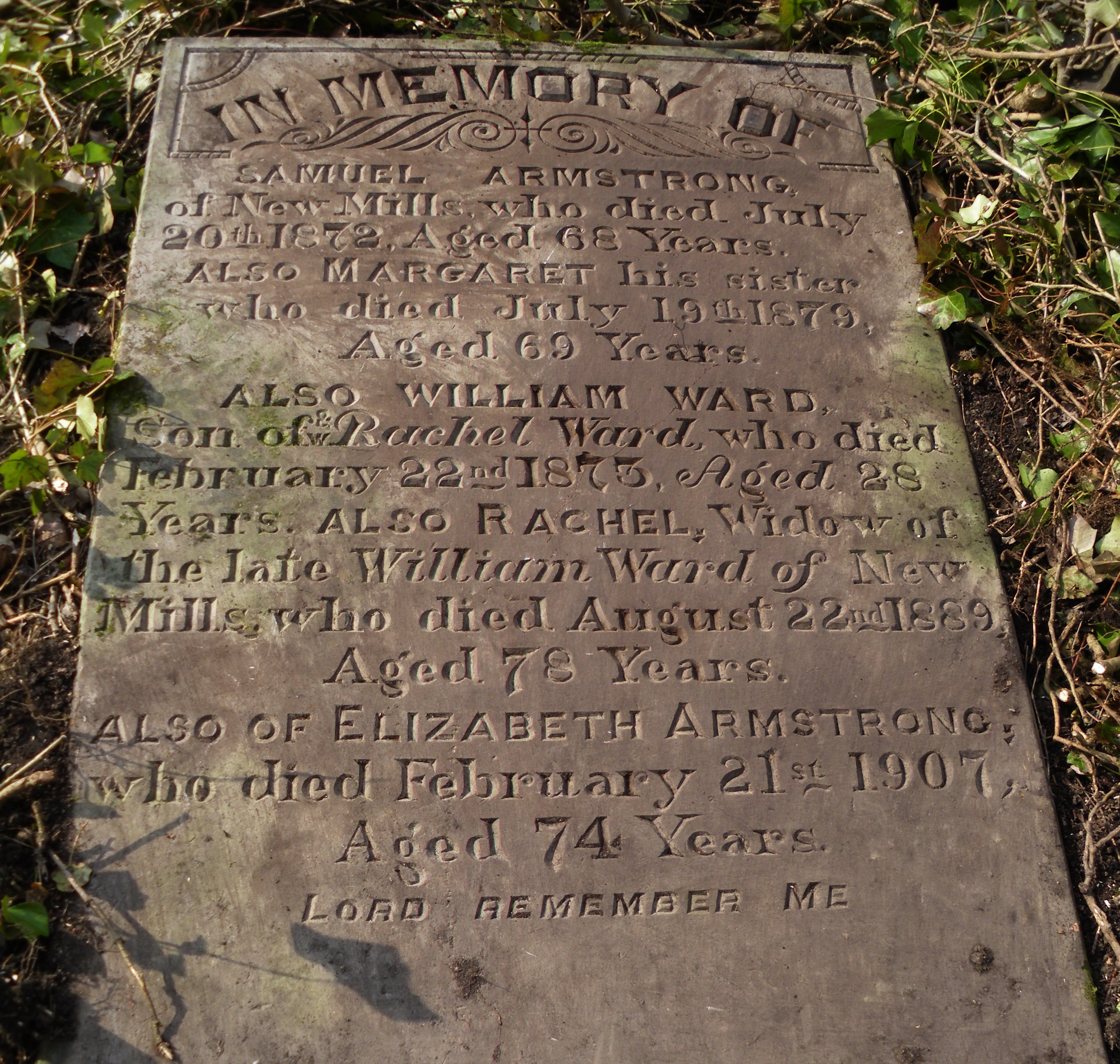 and carried on business there.
They were a remarkably long lived family and the elder Samuel Armstrong died in 1861 at the age of 85. The Barnes, Thatchers, Arnfields, Bridges, Willans, Bennetts, and other big folks of past generations all lie here. Here also lies Stephen Beard, the composer of the well-known tune " Ransom," and Timothy Beard, who died in 1864, aged 84. He was famous as a vocalist for more than half a century.

On the east side of the chapel, of John Johnson, an old class leader, who died in 1818, it says:

"An honest man, sincere, free from strife,
Who blameless passed this vale of human life;
True to his church, and constant to his God,
The pious Christian's course he firmly trod.
Reader, his life contemplate for thy Guide,
He lived respected, an lamented dyed."

Of Sarah, the wife of William Longson, who died in May, 1865, her husband says:
"The splendour and glory that bursts on her sight,
Through the portals of praise to the temple of light"
Exactly a year later William Longson was laid by his wife.

In the next grave lies John Hopwood, of Ollersett, who died in 1866, aged 71.
" On Jesu's breast he leaned his head,
And breathed his life out sweetly there."

On the tombstone of Jane, wife of James Sidebottom, druggist (1837) we read:

" Farewell, dear niece, dear wife adieu!
In goodness, modesty and love equalled by few,
Adieu, dear mother, till that day more blest,
When, if deserving, we with you shall rest."

Here is also the family vault of the Hibberts, including Robert Hibbert, of Warksmoor, who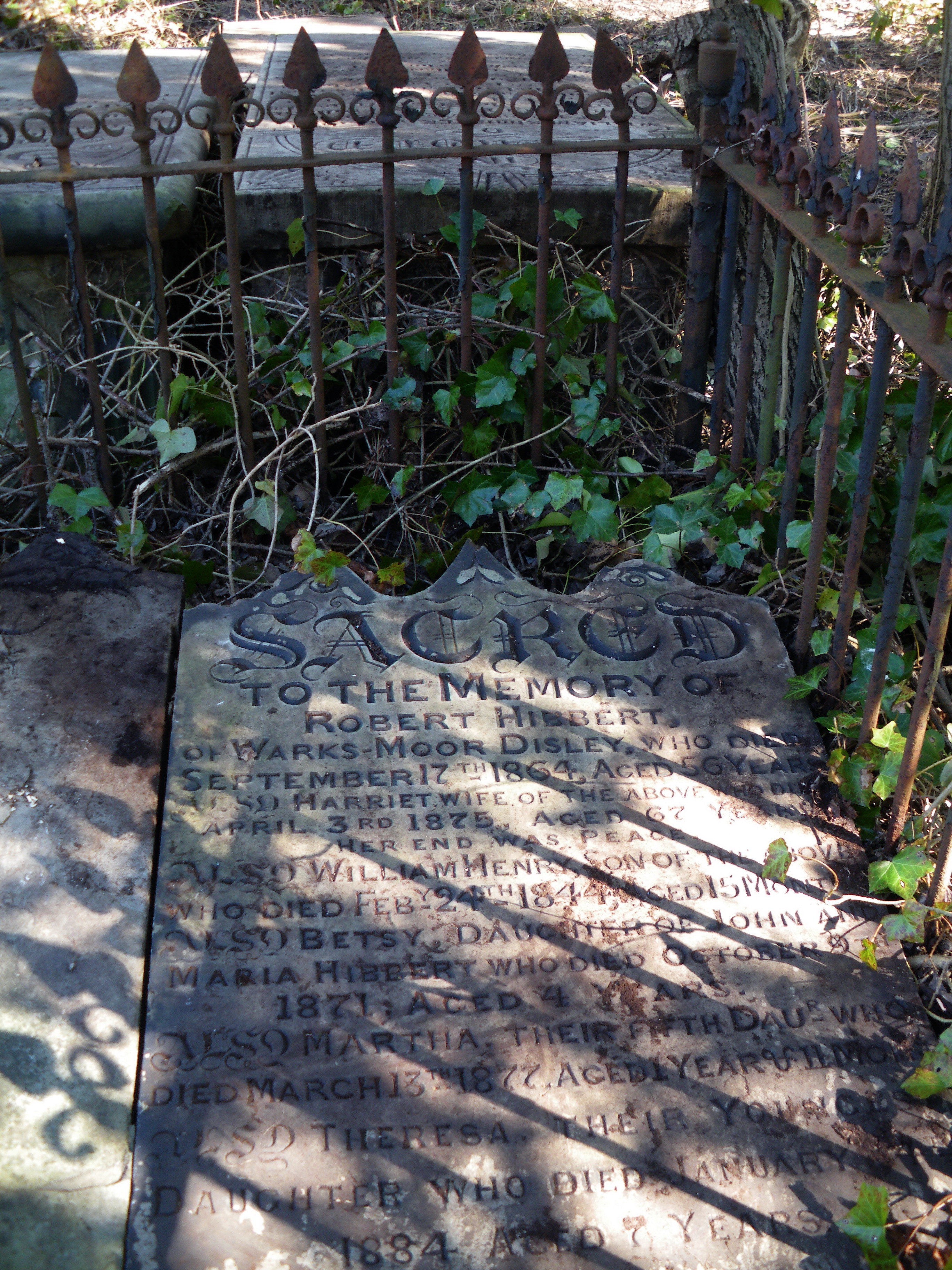 built the first cotton mill in Newtown, and the houses, now Hibbert Street, which he named "New town Buildings." When asked his reason for doing so, he replied that there would be a "new town '' there some day, and so it proved.
Here are also the tombs of the Rev. Levi Waterhouse, for 51 years a Wesleyan minister, and his two wives, and near the principal entrance to the chapel is a massive tomb without any inscription. But although there is no record on the tomb the spacious vault contains the bodies of Peter Bennett (aged 80) a New Mills notable of former days, and the late Mr. and Mrs. Joseph Bagshaw and their children. Not far away are the tombs of the Hawkyards, and in the same ground lies Thomas Ellison, one of the earliest pioneers of Primitive Methodism.
But the oldest grave here is known as "the Minister's grave." This vault was constructed in the year 1811, and in it lie some half-dozen members of ministers families who have died at New Mills.
On the stone of Mary, wife of Thomas Stafford, 1822, it reads:

"Go home dear parents, and weep no more,
I am not lost but gone before,
Short was my time, long is my rest,
God took to him who he loved best."

The epitaph on the tombstone of Sarah, wife of Samuel Giles, 1823, is remarkable for its spelling and punctuation. The wonder is that it was not revised. Here it is:

"Adue blest whoman partner of my life,
A tender mother, and a virtue's wife,
In love we liv'd, in peace she di'd
Life was desir'd, but God deni'd.''

Amongst the oldest graves in the ground are those of the Thornley family including that of Richard Thornley, yeoman. On the stone of Ann. wife of James Thornley, 1839, it reads thus:

" Beneath reposes all that Heaven could lend,
The best of wives, the mother and the friend,
In sickness patient, and in death resigned;
She left this world on Jesu's grace reclined,
Go then, blest soul. partake the joys of Heaven,
The certain lot of all through Christ forgiven.
Though man's fond eye resigns thee with a tear,
The eye of faith shall view thee happy there."

The stone was erected and the epitaph written by the Rev. John Thornley, her son.

Loving children say of their mother (Betty, wife of Henry Handford, Stonepits (1842):
" Enshrouded with these silent dead.
Rests free from worldly care,
A loved one - stranger, softly tread,
A mother's, sleeping here.''

Mrs. Elizabeth Woolley (1833) must have died suddenly, for we read:
" All you who stop to read my stone,
Behold how quickly I was gone,
No warning to my lot befel,
Nor time to bid my friends farewell.''

On the stone of James Clarke, (1843), who died at the age of 37, there is written :
" Death's sudden calls we must obey.
Both young and old are snatched away,
Our life is like the morning flower,
Cut down and withered in an hour."

The Thorpes are one of the biggest families in the cemetery. To the children of James and Mary Thorpe, of Hague Bar, 1813:

"Refrain from tears, pray weep no more,
Your children are but gone before.
In love they lived, in peace they died.
Their lives were asked, but God denied. ''

James Thorpe lived to be 77, and his wife Mary, 91.

Hannah, daughter of John and Rachel Thatcher, 1823 thus speaks :

"Behold and see, all you that pass by,
For as you are now so once was I,
And as I am now so you must be,
Prepare for death and follow me."

The stone of Betty wife of Thomas Hawkyard, 1837, says:

"Afflictions sore long time she bore
Physicians were in vain,
Till death did strike the fatal blow,
And eased her of her pain."

Length of days blessed Edward and Grace Whittaker, aged 82 and 89 respectively, and their advice to their children on their tombstone is as follows:

"Farewell my sons and daughters dear,
I with your mother slumber here,
O, may you ever virtuous be,
That you may live as long as we.
Yea, daily serve the Lord your God,
That you may 'scape the avenging rod,
O, seek the kind Redeemer's love,
Then shall we meet again above."

We read on the grave of Betty, wife of Joel Handford, 1834, that:

"A faithful friend, a mother dear,
A loving wife lies buried here,
In love she lived, in peace she died,
With Christ for ever to abide."

Of Martha, wife of Samuel Clayton, 1822, it is said:

"Studious of peace she hated strife,
Meek patience filled her breast,
Her coat of arms an holy life,
The merits of Christ her."

Judging from the following. John Stafford, (1840) must have been cut off by a stroke:

"Reader, die you must, you are but dust,
To make ready be your care,
The sudden stroke which took me off
Loudly cries to you prepared."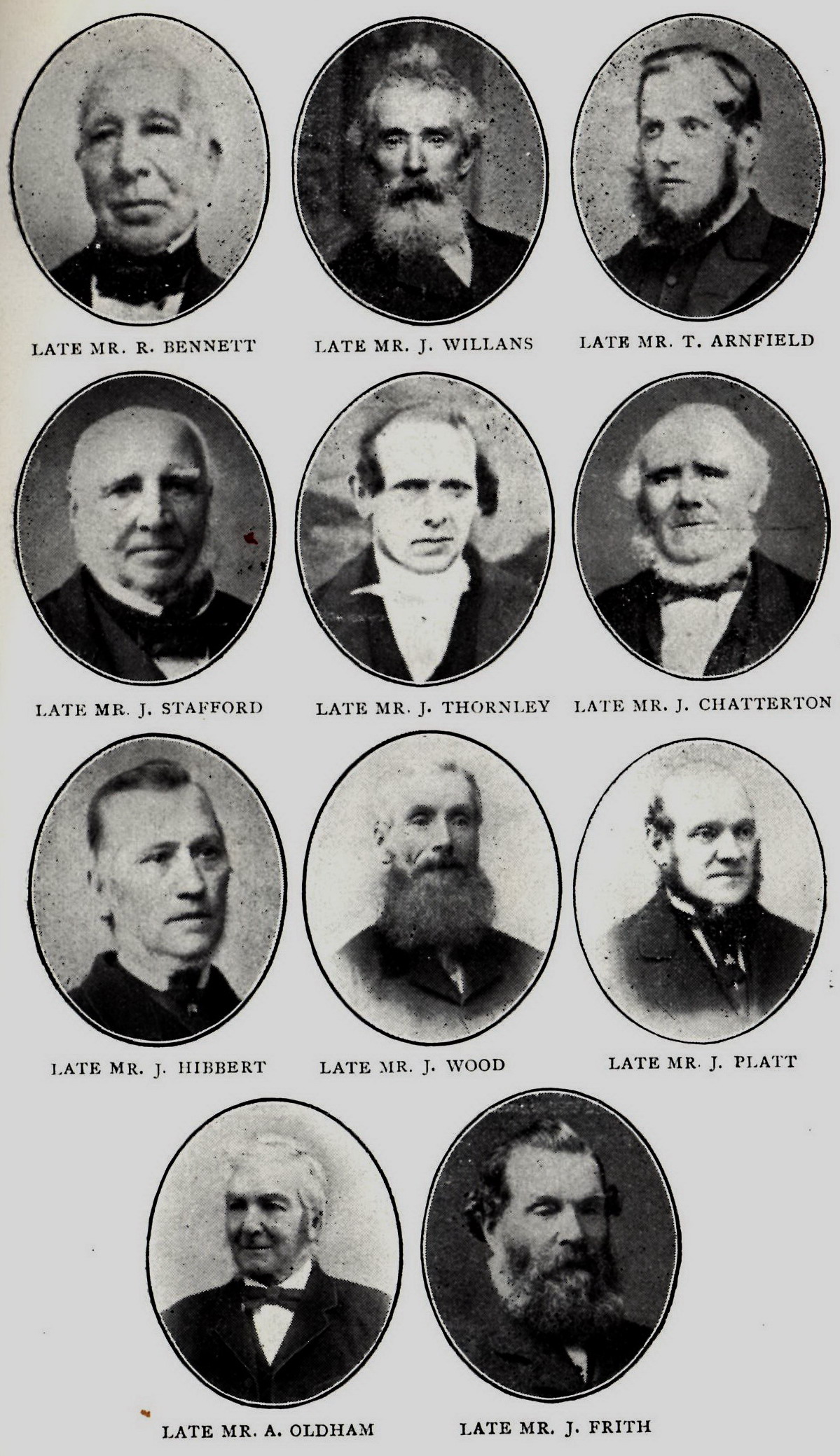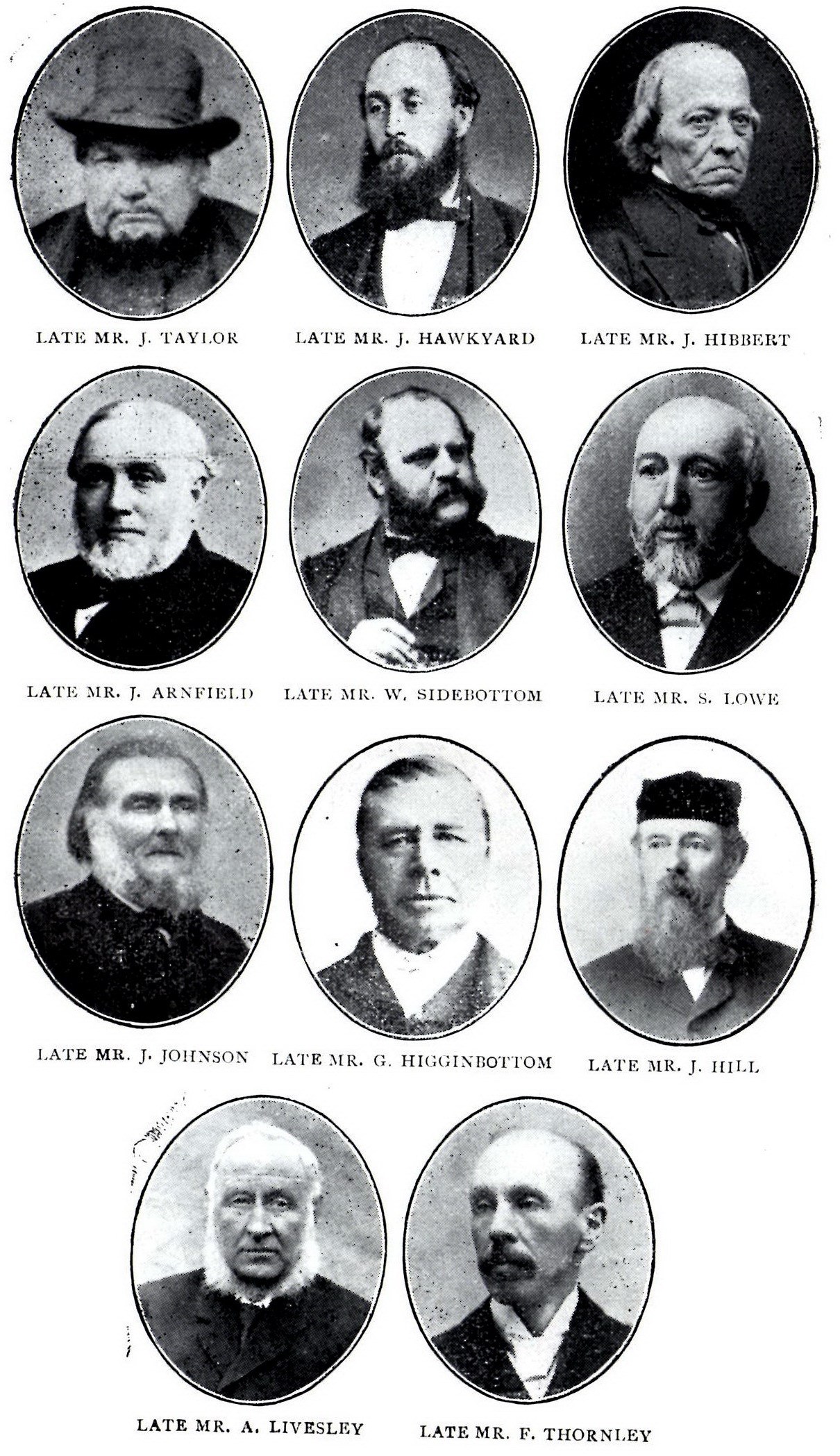 A tragic story is attached to a grave close to the chapel, over which there is a stone containing the following inscription:

" Sacred to the memory of Paul Mason who departed this life April 9th 1813, aged 33 years."
" Hannah, daughter on Paul and Margaret Mason, who departed this life Dec. 13th, 1821, aged 18 years."

At New Mills Wakes in 1812, a number of men, bent on having a lark, made a raid on the farm house at Green Head, between New Mills and Bugsworth, and finding no money, damaged the furniture and destroyed the milk and butter. In those days this was a capital offence. No one had the least idea who were the culprits, but detachments of Scots Greys invaded New Mills on several occasions, and the result was that about fifteen men were tried at Derby. The general, indeed, almost the unanimous opinion was that the witnesses were altogether wrong, and all were discharged but three. Although these three protested their innocence, they were sentenced to be hung, and one of these was Paul Mason, who was declared to be innocent, and protested to his last breath. Here is an exact copy of the letter he wrote to his wife:

Derby Gaol, April 5. 1813.
My dear and ever loving wife, - I write these my last lines to you as my last tribute of duty to you, and hoping these few lines will be of lasting importance to you when I am laid in my silent grave. I am striving to make my everlasting peace with my offended God, and rest in full hope of his acceptance of my immoral soul. My dear Wife, I cry to my God day and night, and he has promised to hear and answer all that come to him with a broken heart and a contrite spirit. He will in no wise cast out.
Thank God Almighty, the crime I have to suffer for, I have not to answer for before the Almighty. But we are all sinners by nature, and in the sight of God no man shall be justified, but thank God we have an advocate with the Father, and our Lord Jesus Christ, who came to seek and save those who were lost. I firmly believe I am one whom he came to save, and am accepted by Him, my God and Saviour, and that I shall rest in Christ. Be sure you observe these my last words and desires, and if we never see each other in this world, grant Almighty God that we may meet again in that heavenly kingdom where parting is no more, and where to all eternity we shall rest in the arms of the Redeemer. My dear wile, I hope you will order in some way for my body to come to New Mills to be buried. But the body matters nothing; it is my soul that is of so much value, my never-dying soul - And I hope that no one will upbraid my children of my untimely end, for I am innocent of the crime for which I must suffer. I hope that the Lord will forgive these mine enemies that have taken away my innocent blood. My dear and loving wife, I hope you will make yourself as easy as you can in your distressed situation, for I hope we shall meet in Heaven to part no more, there to praise our Redeemer to all eternity. There will be no false witnesses or swearers there. for we shall be before one who knows the secrets of all hearts, and who will recompense us for all our sufferings here.
which God knows are many, but we must put our trust in the Lord, for there is nothing done under the sun but what He is an eye-witness of. So, my dear wife, I leave you with my prayers for you and my dear children. hoping to meet you again in Heaven. When you have got my body I should wish you to ask my friends and relatives to my funeral, and to have a sermon preached over me. I hope they will not object to it because I have suffered this untimely death. but I am quite innocent of it. My other affairs about my children I shall tell my brother when he comes; if not I shall write you a few lines before I depart this life. I should like to have a stone laid over me, not for anything of a worldly nature, but to have a verse upon it to let them see that they have taken away my innocent blood. I mean to send you the words, which I should wish to be placed upon the stone.
When my body comes, you may ask who you please to the funeral, for I have no malice against anyone living. Give my best and last respects to my brother James if I don't see him, and to my brother Peter and wife and to my brother Robert likewise, to my brother John and wife also; to sister Hannah and husband, and in a particular manner to my dear sister Sophia and I could wish her to be at my funeral if possible. So farewell, my ever- loving wife; farewell to you my dear children, in hopes to see you again in heaven. I hope and trust you will observe my last word concerning my dear children and your happiness. Tell my dear Maria and Betty to live to God; and my little Hannah. and my poor little Joseph and James. which makes my heart to bleed almost. Tell them if they live to God we shall meet again. So farewell, my poor wife and children, but the Lord has promised to be a father to the fatherless, and a husband to the widow. But I must leave off writing. So farewell, farewell. I conclude, your unfortunate and innocent husband
PAUL MASON.

Poor Paul Mason's body was brought to New Mills, and strange to say, on its arrival the body was found to be warm. Several gurgling sounds as though life was not quite extinct, were emitted from the throat, and in the opinion of some people his life might have been saved had means been taken to resuscitate him. It will be seen his "little Hannah" lived eight years after her father, and although there are no more inscriptions on the stone, the chapel records are complete as to the occupants of the grave. Here they are:

Grave sold to Paul Mason.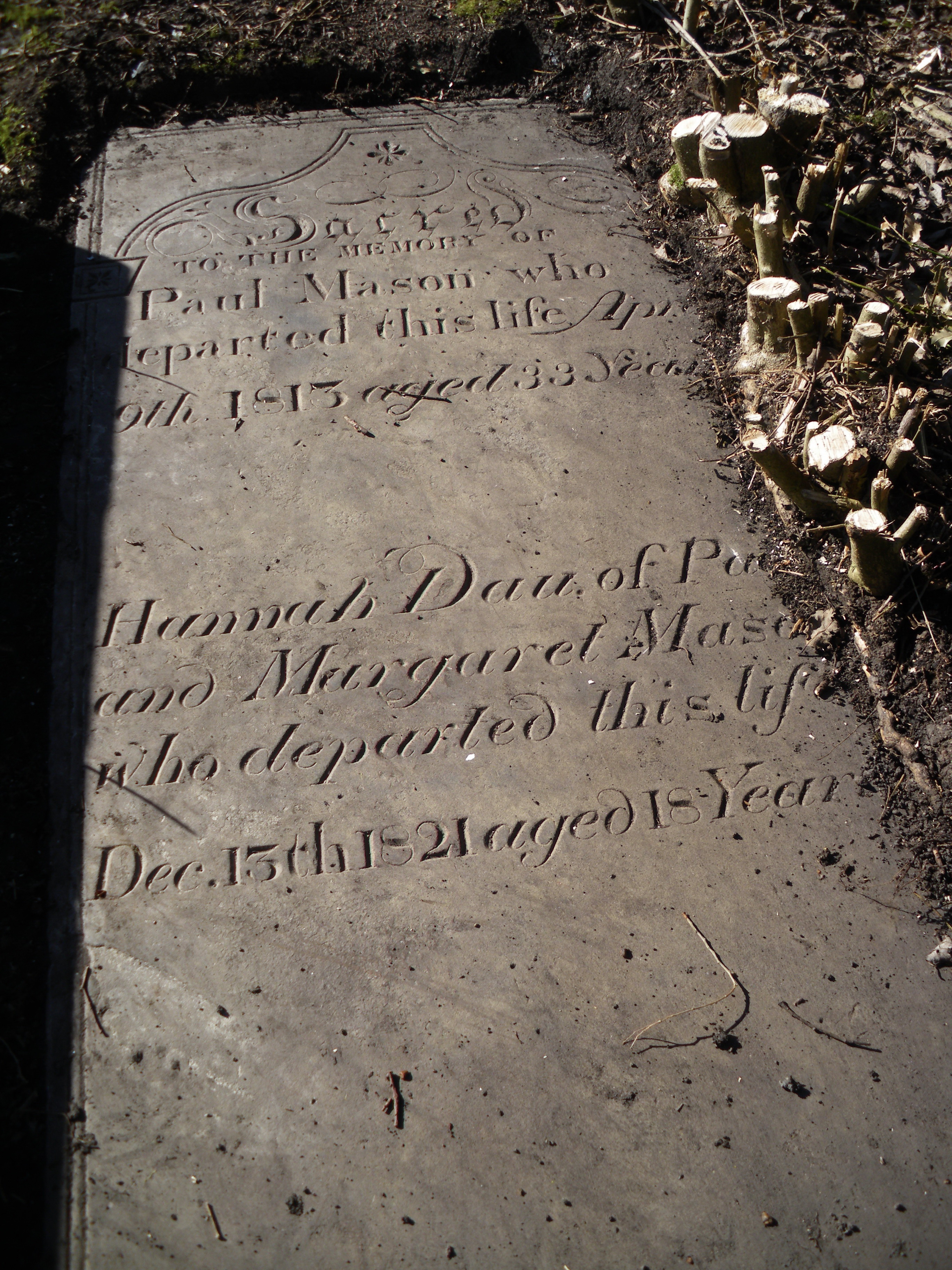 Paul Mason, interred April 9th, 1813, aged 33 years.
Daughter interred Dec. 13th, 1821, aged 18 years.
Joseph Mason, interred March 13th, 1833, aged 25 years.
Ann Mason, interred Nov. 23rd 1853, aged. 77.
Ann Howard, interred June 5th, 1861, aged 13 months.
This grave is now transferred to James Mason.
James Mason, February 21st 1883, aged 73 years.
William Mason, Nov. 17th, 1900, aged 44 years.
This grave is now closed.

It will thus be seen that " poor little Joseph '' lived to be 25, and " poor little James'' to be an old man of 73.

The question remains of what lines Paul Mason wanted on his gravestone, fortunately they did survive, but we will never know why they were not inscribed as he requested.

' Psalms of David, chapter 53, 11th verse;
"False witnesses did rise up;
They laid to my charge things I knew not."
Farewell, my wife and children dear,
My only wish on earth;
My innocent blood they have taken, you know,
But I hope the Lord will them forgive.
Prepare to meet me in that place,
Where parting is no more;
Where we shall reign with God always,
And Christ for evermore.'

From an entry in the book it would appear that in former days, a grave was set apart for those who died from Cholera. It is known as the " Cholera Grave." That terrible complaint appears to have raged in the year 1834, when the Cholera Grave received the bodies of several victims - Peter Bate, Judith Morgan, and Betty Shufflebottom, all died the same day. In 1839, there were two victims - Betty Sumner and Sarah Hyde, on two successive days; in 1856, Mary Ann Lodge fell a victim, and in 1859, Paul Wild and Sarah Ardern. There are about a dozen graves known as " Public Graves,'' and one as " The Town Grave." Probably here were deposited the bodies of those who were buried by the overseers, -wayfarers, cast-aways and the like.

There are many curious entries in the old book that would make interesting reading. We are told (1831) that "Jerry O'Brine's child was interred,'' and in the same year we find " an Irish Boy was interred,'' a name seems to have been added subsequently, namely,
" Handday Moran." There are hundreds entered without the name of the deceased, such as, " Mr. Gratrix's servant, March 29th, 1816 ''; " Thomas Watkin's mother, February 16th, 1831."

In the grave of Jonathan Smith, printer, we read, " a child of the name of Ramsbottom was interred in the year 1835,'' and the official who made the entry adds, " Query, why? '' The query remains unanswered.
Another entry reads, '' Thomas, son of John Leech, interred November 26th, 1826, aged 5 years. Son John, interred September 14, 1831, aged 16 years. Son John disinterred and put upon John's coffin." We are told that '' Old Ann Stafford '' was interred April 10, 1831, aged 84 years, and perhaps the youngest person who found a, resting place here is mentioned in the entry: " Elizabeth Sarah Higginbottom, June 16th, 1877, aged one minute."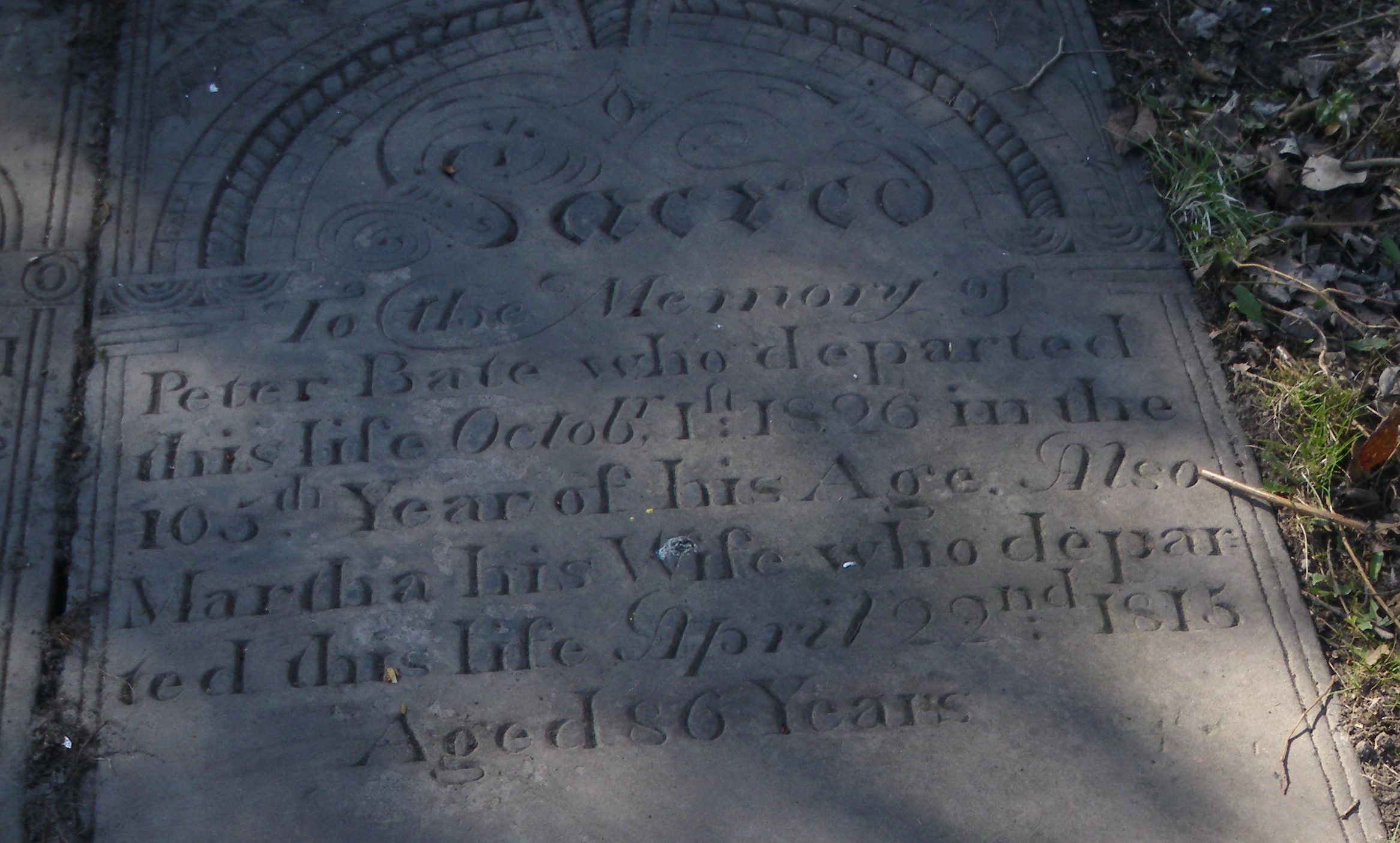 Longevity is a distinguishing feature of the District, judging from the number of memorials of those who have attained to patriarchal age. This is especially the case in the oldest portion of the cemetery, where close to the path round the chapel there lies Peter Bate, a man of note a, century ago, who died in 1826, in his 105th year. His wife had died eleven years before at the age of 86. Robert Taylor died in 1860, aged 103, and there are many over 90, including - Samuel Bate, 93; John Bowden, 91; Mary Garratt, 90; Richard Garratt, 91; '' Old Sarah Wharmby,'' 91; Frank Wharmby, 91; Betty Swindells, 96; Thomas Turner, 95; Thomas Goddard, 91; Deborah Elliott, 99; Elizabeth Mills, 96; Hannah Marshall, 95; Martha Lowe, 91; Mary Thorpe, 91.
In the ground there are interred 150 persons over eighty years of age, and 360 between seventy and eighty, the total number in the burial ground being close on 4,000.

The burial ground was enlarged in 1837, when Randle Taylor sold 350 yards of land on the south side of the chapel, " for the solemn purpose of burying their dead, and no other purpose, the said Trustees paying me Twenty Pounds and allowing me and my family the free use of a double grave or vault." And the vault is still there. The ground at the rear of the Chapel, measuring one and a quarter acres, was purchased from Matthew Shaw Turner in 1872 for £270, and in this plot lie hundreds who have been interred there during the last forty years.


Note:-
There is little additional information to be gleaned about the circumstances surrounding the alleged crime and execution of Paul Mason, but I have managed to find the following from the Derby Mercury and other sources.

In 1812, there was no Market Street or Union Road, no Newtown or Church Road. All the cottages and houses ranged along the brookside and what came to be known as High Street. The town had no organised body of police, no highly developed system of local government, and people were sent to the gallows for offences, which today would be met with a fine or suspended sentence.
In 1812, New Mills was a hot bed of poachers, who mostly lived by making raids on the preserves of neighbouring owners, where game was abundant. It was at New Mills Wakes, that a number of men decided to raid the canal warehouse at Whaley Bridge, which had not long been built. They agreed to meet at a big stone, which marked the boundary of the highway, where each was sworn to secrecy. But, unfortunately for them, they were over heard by some woman as they took the oath.
Disappointed at their unsuccessful attempt to force their way into the warehouse, they retraced their steps and decided to visit Green Head a farmhouse about half a mile from Bugsworth in the direction of New Mills, occupied by Thomas Drinkwater.
It was the middle of the night when they arrived and the aged couple had gone to bed. Forcing their way into the house, they roused the couple and demanded money. But they failed to find any, although the man was said to have £200 or £300 hidden in the house.
So annoyed were the men that they wrecked the furniture and destroyed milk, butter and other things on which they could lay their hands. Then they left and made their way to New Mills.
No one had the least idea who the culprits were, but very soon, New Mills was invaded by a detachment of Scots Greys on several occasions. They took into custody the most notorious of the poachers whom they suspected. It was said that "some decamped from New Mills at that time who were never seen again." Probably these were the guilty men – but around 15 men were apprehended, and all were indicted at Derby for burglary, which at that time was a capital offence.
The trial occupied a long time, a great number of witnesses being examined, and it is said that many of them swore falsely. The result was that all the men were discharged except three – Paul Mason, of New Mills, Peter Henshaw, of New Mills, and Richard Hibbert, of Mellor.

It was generally believed in New Mills that Paul Mason was quite innocent of the crime for which he was executed, and this is perhaps borne out by the proximity of his resting place close to the Chapel. Of Henshaw and Hibbert I have no further information.

(January 2nd 1813) "Committed to Derby Goal on 2nd January 1813, Joseph Hibbert, charged with being an accomplice in the burglary at the house of Thomas Drinkwater, at Bugsworth, in the parish of Glossopp, on the 17th of April last."

(March 25th 1813) "Thomas Frith, Henry Mason, Henry Bagshaw, James Harrison, Robert Harrison, William Rigley, John Mason, William Simpkins and Joseph Goddard, charged with being accomplices in the burglary at Bugsworth, were severally aquitted. Against Joseph Stafford, William Arnfield, George Horne, and John Stafford, charged with being in the last mentioned burglary; no true bills were found."

(Thursday, April 8th 1813) "We can state from authority that the execution of Paul Mason, Richard Hibbert, and Peter Henshaw, for burglary will take place on Friday next, at 12 o'clock, on the new drop in the front of the county gaol."

(Friday, April 9th 1813) "Executed: Paul Mason, Richard Hibbert and Peter Henshaw, for burglary."
(They were executed on the new drop, in front of the County Gaol, before an immense crowd of spectators).

(September 1913) "Committed to the county gaol on Monday last, Stephen Pearson, one of the accomplices in the Burglary committed at the dwelling house of John Drinkwater, at Bugsworth, in April, 1812; for which offence fourteen men were tried at our last March assizes; five were capitally convicted, three of whom were executed, and two transported for life. – A true bill of indictment was found against Stephen Pearson at the said assizes and he was apprehended at Sheffield a few days since by virtue of a judges warrant."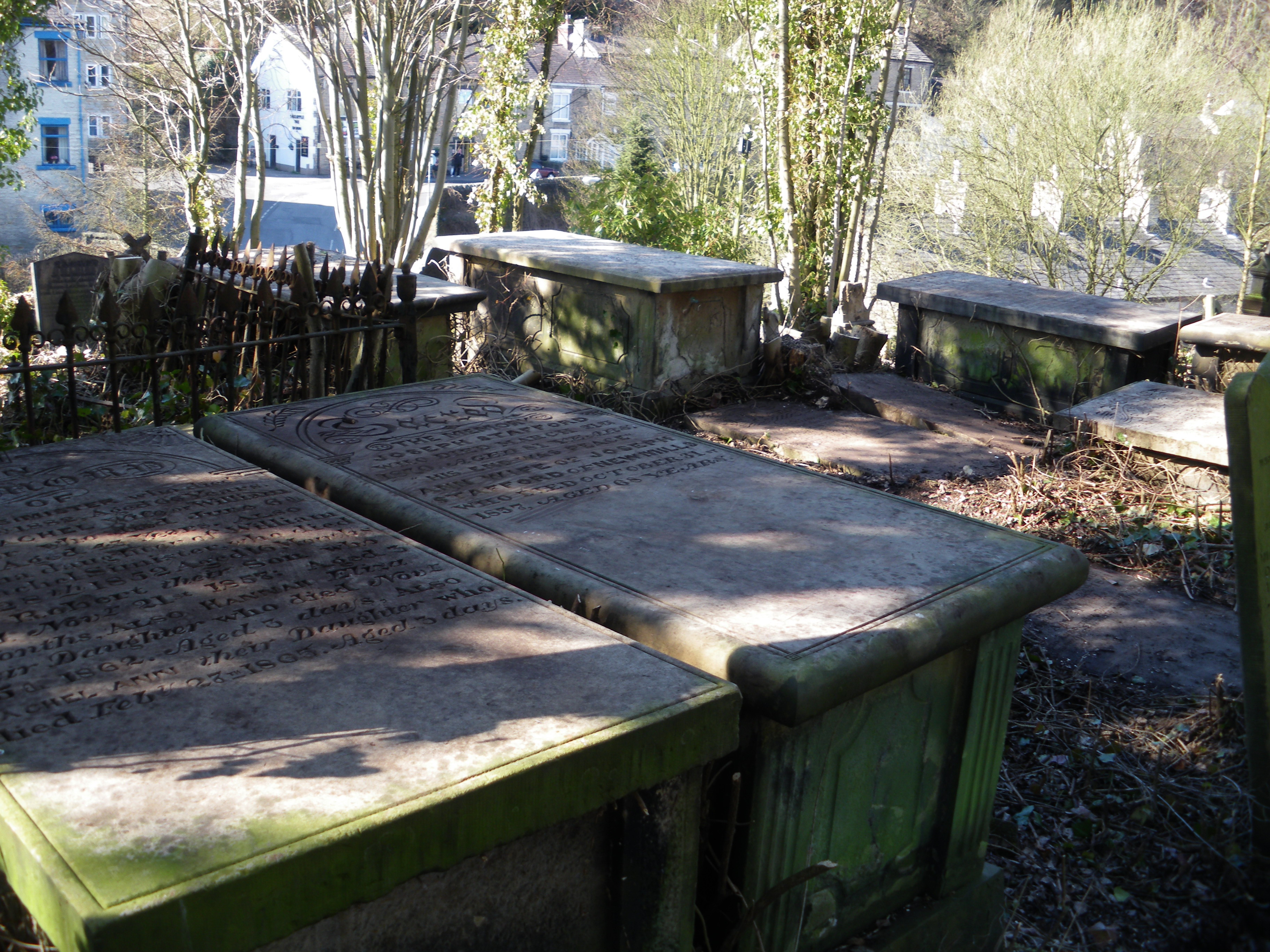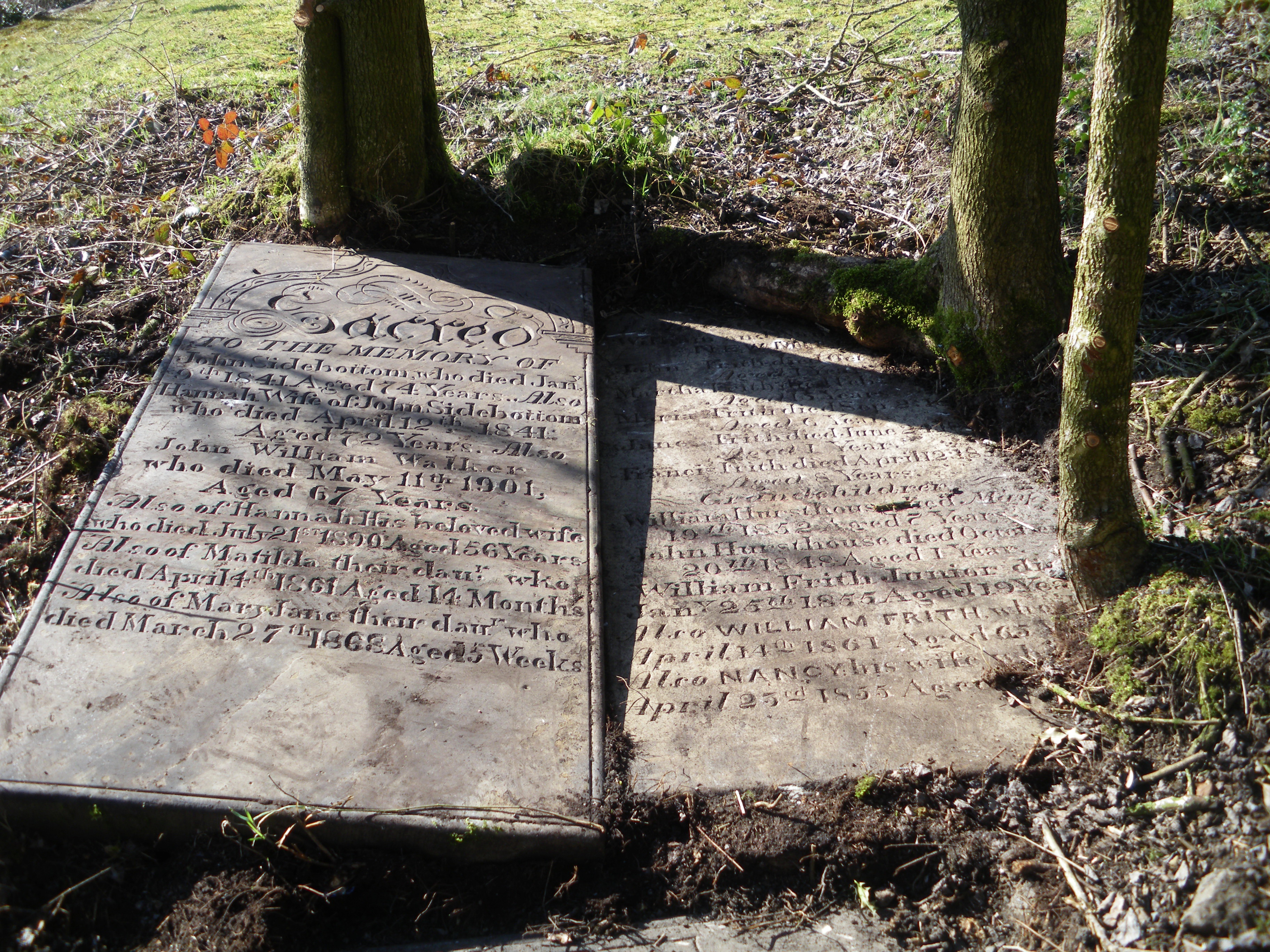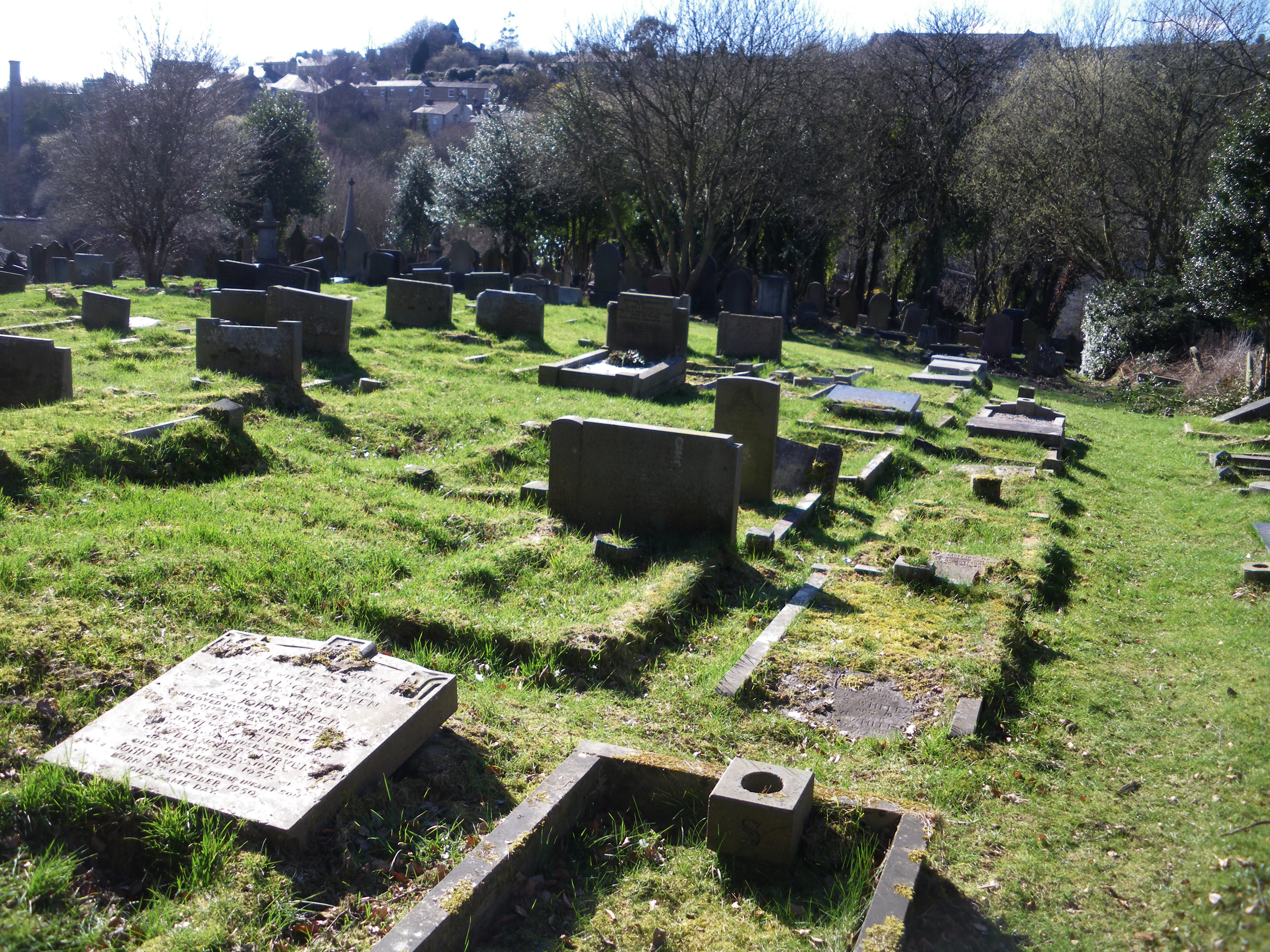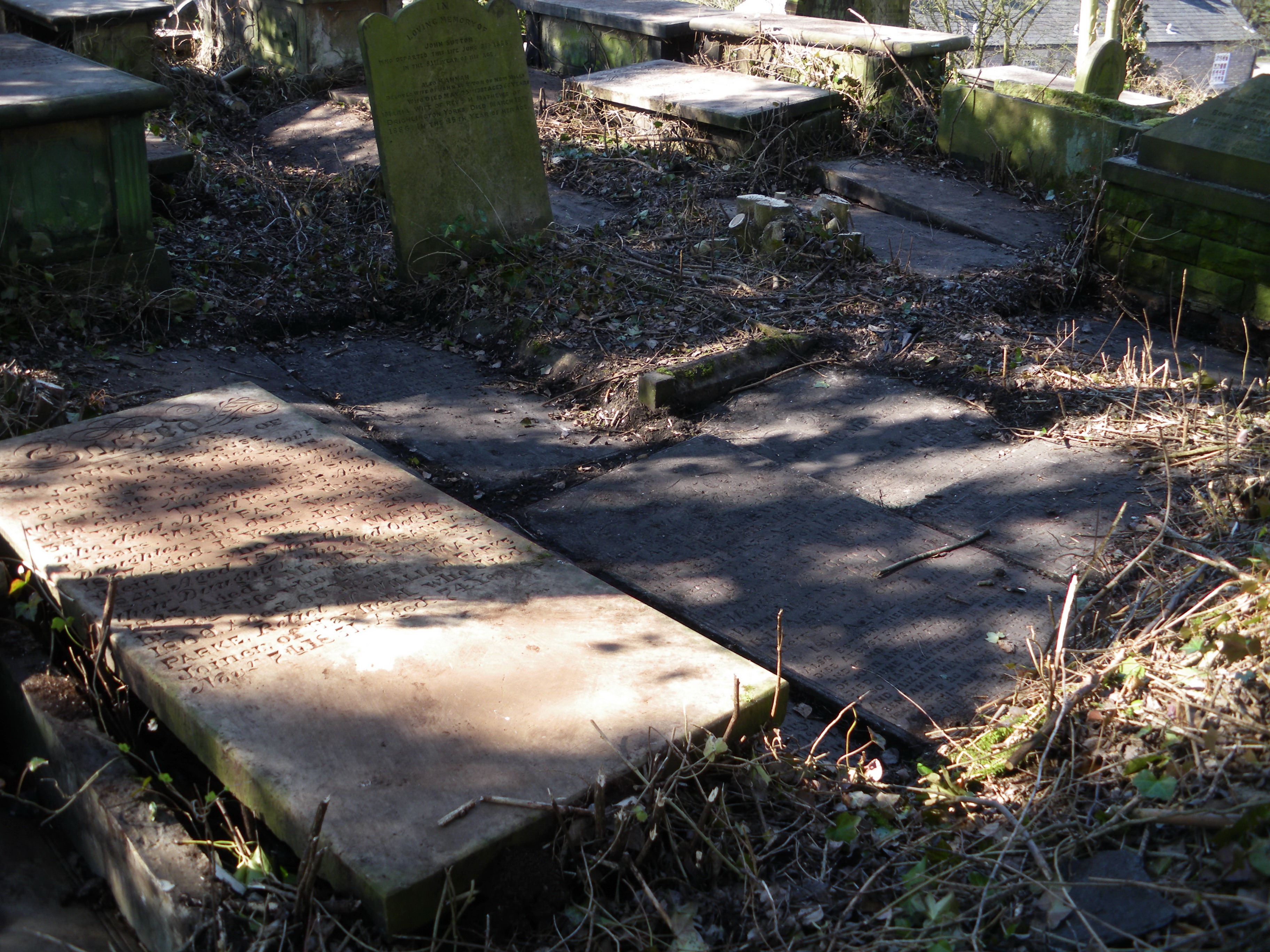 From - New Mills Wesleyanism by Seth Evans and other sources.